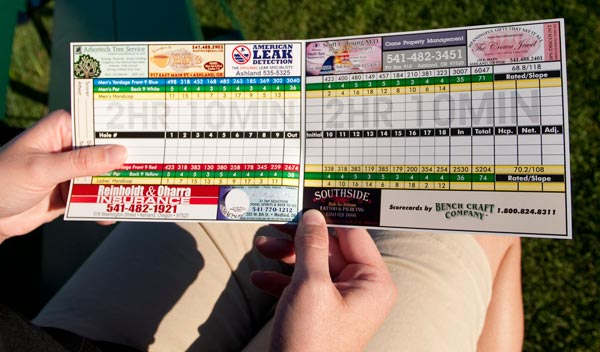 Being a golfer, I had the bright idea (after a solicitation phone call), to promote my business at two local golf courses by buying an ad on their score cards.  It was only $750 for a season. Surely one of my friends or fans would have said something to their golfing buddy (or two). After paying with my credit card months earlier, I was excited to go to the course when golfing season began to see my masterpiece! Weeks went by and no new score cards.  Then finally, I went one day and the new cards were in the starter's box. Filled with glee and excitement I scoured the card only to find a competitor's ad, but not mine?
When I got home I called the company who told me it was my fault. I had the email that I had sent with the artwork, so they squirmed and offered me four courses next year. Not wanting to wait another year to see my $750 do my business good, I put my pitbull wife on the phone and they finally refunded my credit card.
Have you ever purchased advertising only to see no return on investment or where they promised but did not deliver? Having done that numerous times I am hesitant to buy anything from a phone solicitor.
Now in this Social Media World, we have the likes of Facebook, Twitter, and LinkedIn touting how you can reach more people and make more sales through ads. You don't have to do that blindly. You can attend webinars and maybe pay some people thousands to show you how to make tens of thousands. In the end, you can spend A LOT OF MONEY and still have no sales to show for it. Now I am not saying that social media advertising DOES NOT WORK (I have had success with my own properties), but just going at it without knowing some inside secrets can cost you more than you make.
An Almost Sure Bet
I was not a biggy Chamber of Commerce person, until I started looking at the numbers. First off, when one chamber I belong to updated their website, their traffic tripled (almost 2000 visitors a month). I started to realize that the value of my listing with them was worth the price of admission.  For between $125-$300 per year ($10-$25 per month), my web visibility increased way more than paying for most other web directories or paying for online advertising.
Here are some more values that I never accounted for:
1) Networking – Some are paid for and others are free.  I get to network with the movers and shakers of like minded business people.  These meetings have translated to THOUSANDS in business that advertising has never done.
2) Marketing – Chambers will often give you the opportunity to post and broadcast events.  You can write stories for their newsletters, emails and blogs. One chamber I belong to even searches out and rebroadcasts my Business Facebook posts!
3) Job Boards – I don't use them, but LinkedIn makes you buy 5 Jobs Credits to post 1 job.  That is $1500+ you can save by posting your jobs with the chamber of commerce – They may advertise that jobs are available also!
4) Deals & Member Discounts – You have a captive audience that by being associated with a Chamber of Commerce, that has the perceived trust factor (that of being in the Better Business Bureau…  without the cost). Just like Groupon (without the cost) you can get people to try you first because you are local.
5) eBlasts – Some are free (one chamber I belong to offers two free a year), while others are paid for. You can reach a vetted, captive audience for WAY LESS, then buying an email list and potentially breaking the law by sending out unsolicited emails.
It Adds Up…
If you add up all of the Chamber of Commerce offerings, you get a lot of return on investment for $125-$300.  When I did the math for my business, I got over $2500 of value.  Even better, I have accounted for thousands in sales. Just one repeat customer in one Chamber has equated to over $7500 in sales last year. That's one customer in one Chamber (I have left a few and joined others).  Not all have been so lucrative, but there has not been one that currently I belong to, that has not seen a 3-1 return on investment (in cost and time).
What have been your experiences?  Have you had advertising that has worked?  What do you like (or dislike) about your local Chamber of Commerce?