So I open up Facebook and there it was… something I was dreading. I was tagged in the ALS Ice Bucket Challenge by my friend and teacher Felicia Slattery. "Ok Kristen Eckstein, I did it!! And now I nominate Jeff Herring, Shannon Cherry, Brian Basilico, & Lou Bortone. #IceBucketChallenge give at http://alsa.org/ My charity is http://www.jannieshope.org/donate/"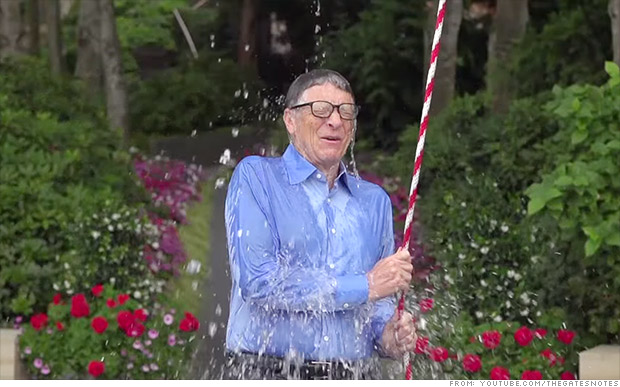 Now a little background.  The ALS Ice Bucket Challenge has been a thing since July 29th (about 2+ weeks). Now most internet sensations do not start out with superstars. So how does LeBron James, Oprah Winfrey, Mark Zuckerberg, Martha Stewart, Bill Gates, Justin Timberlake, and Steven Spielberg work for you as starters. Then it started showing up on the news (like the Today Show where I first learned about it).
The ALS Foundation, from July 29 to August 12 2014, raised $2.3 million in donations compared to $25,000 (same period in 2013) in donations last year. As of today (April 18th) that number has ballooned to over $15.6 million and trending upward!
So what is the appeal?
What makes this different?  Why are people taking the "Challenge" in droves?  Here are some thoughts…
It's a Challenge – People are posting videos of themselves doing the challenge, mentioning you in it, and then tagging you for all your friends to see.  That is the triple crown of social virility. Video is like pictures (even better some times) more powerful than text alone. You are tagged so all your friends are alerted to the challenge (if your settings allow tagging and friends seeing it). Finally… IT'S A CHALLENGE. One of my favorite jokes is (thanks Scott Evans) "I was raised so Catholic, that my Mother was a Travel Agent for Guilt Trips!" At first we say "Oh No!"  Then we get the guts (especially when we can torment other people to do the same).
It's Cheap and Easy – Finding the bucket was the hardest part.  Filling it with water and ice is next, finding someone to video you (or figuring out how to do it yourself). Secondly, donating $10 is accessible to everyone. Felicia, I and other s have taken this a bit further and challenged others to donate another $10 to their favorite charity. Most peeps are sticking with just ALS (I get that and I'm cool with it – it was their party first). Sorry Starbucks, but my Pumpkin Lattes will have to wait a couple more weeks!
It's Fun – After I posted mine I started to notice dozens of other "Pour" people to see their take on it and how what was their take and message. It created a sense of community like none I have seen before in social media. You were part of a tribe that had a common goal. Now keep in mind that I have been aware of ALS (Lou Gehrig's Disease) for years, but I have never been touched by it with people in my life. Jan Marino (the person I do my weekly BlogTalk Radio show with every week) commented that her mother-in-law died from it and thanked me for my efforts. Imagine all the other people touched by this outpouring of support that we have no clue about?
So What Can We (Social Media Marketers and Non-Profits) Learn From This?
Most of us would love to get 1.5 million people to donate $10 to us (heck I would give 10 times that to get 1/10 of those people to pay attention to my messages). The key here is the message is for the better good of all people (even if it's only ALS). It's affordable ($10 is 2 lattes and $1 in Kickstarter is just that). Finally, it's fun. All your friends get to see you in a way that makes you human and accessible.
That my friend is the power of social media. It's not so much about dollars, campaigns, transactions, analytics or ROI (although when done right like ALS it can be). It's about friends, family, coworkers, engagement, interaction, emotions, and most importantly, for the common good of all!
Here is mine…  Share your thoughts and your Ice Bucket Challenge Video links!
Tweet: Every Business can benefit from making your Google Business page ROCK… Learn How – http://ctt.ec/sChiu+